UK Athletics to Observe National Student-Athlete Day During the Entire Month of April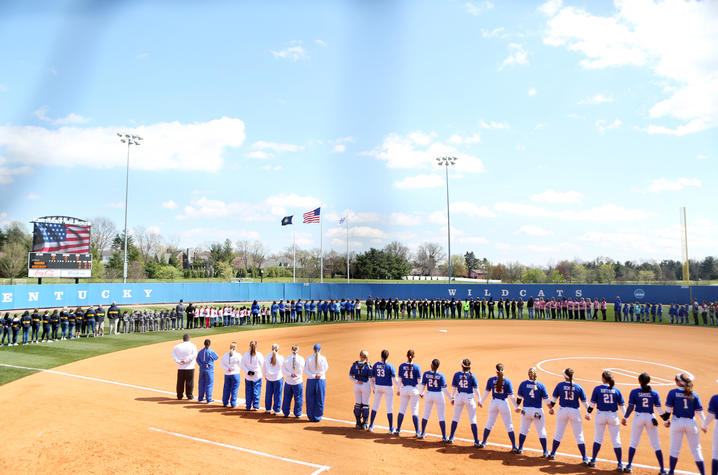 LEXINGTON, Ky. (April 6, 2017) — Hundreds of events around the nation in the coming days and weeks will mark the 30th annual National Student-Athlete Day, including activities sponsored by the University of Kentucky. Gov. Matt Bevin also has issued a proclamation recognizing April 6, 2017, as National Student-Athlete Day in the state of Kentucky. UK Athletics will launch a series of events to mark the occasion:
On April 6, the UK Athletics Center for Academic and Tutorial Services (CATS) will release its biannual student-athlete enhancement newsletter, The Scratching Post. The latest edition will highlight the UK student-athletes recently inducted into the Frank G. Ham Society of Character. In addition, the publication will feature an interview with former UK men's basketball star Antoine Walker who discusses his new career as a college basketball analyst for both the SEC Network and 120 Sports.
UK Athletics will recognize Paul Sime, a graduating senior on the men's soccer team, who was recently selected as the 2017 male Arthur Ashe Jr. Sports Scholar of the Year. Inspired by tennis legend Arthur Ashe Jr.'s commitment to education as well as his love for the game of tennis, U.S. colleges and universities participate in this annual awards program for minorities. In addition to their athletic ability and academic performance, these student-athletes demonstrate a commitment to community service and student leadership. Paul beat out over 1,200 student-athlete male nominees across the nation to win the honor. 
UK will also recognize senior women's student-athlete Aldila Sutjiadi who finished fourth in the voting for the female Arthur Ashe Jr. Sports Scholar of the Year voting.
On April 10, a student-athlete appreciation table will be set up at CATS.
UK student-athletes are scheduled to appear at several Fayette County elementary schools throughout the month of April, including the Special Needs Awareness Day Celebration at Cassidy Elementary School in Lexington on April 17.
UK student-athletes, numbering approximately 500 each year, have turned in consistent performances in the classroom in recent years. Challenged by Director of Athletics Mitch Barnhart to achieve a 3.0 department-wide grade-point average, the Wildcats collectively have surpassed that standard for nine consecutive semesters. Improving graduation rates also has been a goal for Barnhart and UK student-athletes have broken or tied the school record for graduation rate every year since the NCAA began charting that statistic in 2005.
National Student-Athlete Day honors student-athletes and the network of parents, coaches, teachers and school systems that make it possible for young people to strike a balance between academic and athletic achievement and who use sport as a vehicle for positive social change. The day, established by the National Consortium for Academics and Sports, is co-sponsored by the NCAA and the National Federation of State High School Associations (NFHS) and Northeastern University's Center for Sport in Society.
More information about National Student-Athlete Day is available at http://ncasports.org/programs/national-student-athlete-day/.