CCTS Project Takes Aim at Medical Error Disclosure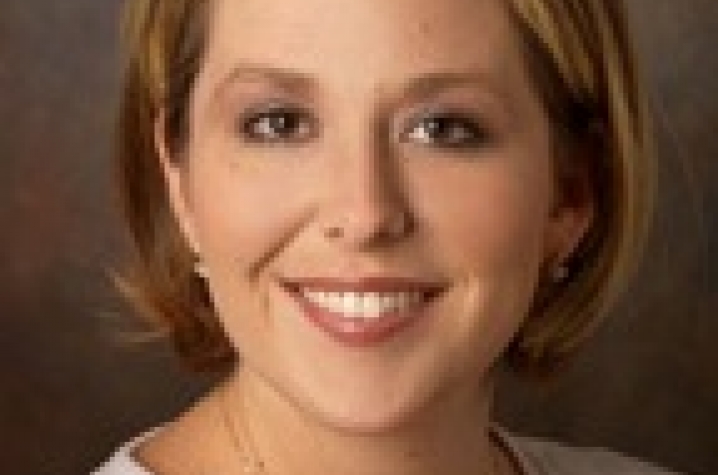 LEXINGTON, Ky. (Feb. 27, 2014) — Mandy Jones, clinical assistant professor in the University of Kentucky College of Pharmacy's Department of Pharmacy Practice and Science, has received a highly-competitive UK Center for Clinical and Translational Science (CCTS) pilot award to analyze and transform the culture of medical error disclosure in health systems utilizing interprofessional teams.
The project is entitled "Transforming the culture of medical error disclosure in Kentucky through interprofessional education," and it seeks to improve a long-standing medical error disclosure problem at health systems around the nation.
Jones will lead an interprofessional team of educators and researchers representing law, medicine, nursing and pharmacy in order to provide medical error disclosure training for healthcare providers and to study the impact of team-based disclosure on transparency and provider willingness to disclose.
"I am thrilled to have been given the opportunity to generate information that may inform the development of evidence-based strategies for improving transparency of disclosure and provider willingness to disclose," Jones said. "Given the increasing emphasis on team-based care and interprofessional education in health professions curricula, our research represents a first step in characterizing the impact of interprofessional teams on disclosure conversations. I am also honored to be working with such an impressive team of educators and researchers, without whom this project would not be possible."
Major national agencies, such as the National Quality Forum, The Joint Commission, and the Institute of Medicine expect the reporting and disclosing of medical errors to provide information that can lead to improved healthcare quality and safety; however, little guidance is provided by these agencies in terms of how to effectively disclose an error or which model of disclosure is best.
Relational outcomes of disclosure research demonstrate that while clinicians desire transparency, these attitudes are often not translated into practice; when disclosures do occur, they typically fall short of patient or family expectations. There are numerous barriers that impact transparency and provider willingness to disclose, including lack of disclosure training, unclear guidelines when encountering an error, communication inexperience and fear of litigation, to name a few.
Despite these barriers, research indicates that ineffective communication between providers and patients is the single most significant factor in explaining why patients litigate. Given that team-based healthcare delivery improves patient outcomes and is an expectation in current healthcare delivery models, our study will determine if team-based disclosure results in more complete, transparent disclosures and more effectively enables clinicians to overcome barriers affecting their willingness to disclose.
"We have a tradition of pioneering advances in pharmacy and patient care here at the UK College of Pharmacy," said Dean Timothy S. Tracy. "This CCTS project is a natural extension of that proud history. I applaud Dr. Jones for reaching out across campus and around the nation and building a dynamic team to help us change a healthcare issue that is in dire need of changing. The end result of this project will be better patient care, which is something pharmacists in every setting understand – as that is something our profession strives for every day."
The training will take place over 18 months. The CCTS grant funding totaled $25,000.
Fellow collaborators on the project include Margaret Pisacano, director of risk management, UK HealthCare; Paula Holbrook, associate director of risk management, UK HealthCare; Darlene Welsh, UK College of Nursing; Dr. Christopher Doty, UK College of Medicine; Dr. Curtis Cary, UK College of Medicine; Andrea Pfeifle, director, UK Center of Interprofessional Healthcare Education, Research, and Practice; Craig Martin, UK College of Pharmacy; Joseph Fink, UK College of Pharmacy; Dr. Lee Wilbur, University of Arkansas for Medical Sciences, College of Medicine; and Dr. Douglas Carr, Indiana University, School of Medicine.